Hello everyone,
I was alerted that another press release was posted on the International Congress on the Education for the Deaf (ICED) Vancouver 2010 website today. Today is the last day of the ICED Vancouver 2010 conference.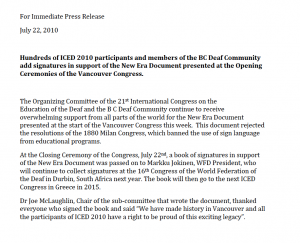 I agree with this statement, and it rings true, "We (The sub-committee of ICED Vancouver Congress 2010) have made history in Vancouver and all the participants of ICED 2010 have a right to be proud of this exciting legacy".
The action that had happened on July 19, 2010 when the formal announcement of apology and rejected the resolutions of the 1880 Milan Congress, which banned the use of sign language from educational programs.
In closing, let all of us ensure that this "New Era Document" to be carried through to the 16th Congress of the World Federation of the Deaf in Durbin, South Africa next year, and then this document/book will go to the next ICED Congress in Greece in 2015.
Congratulations to the Organizing Committee of the 21st International Congress on the Education of the Deaf and the British Columbia Deaf Community!
Hat tip to Dr. Joseph McLaughlin, and JOB WELL DONE!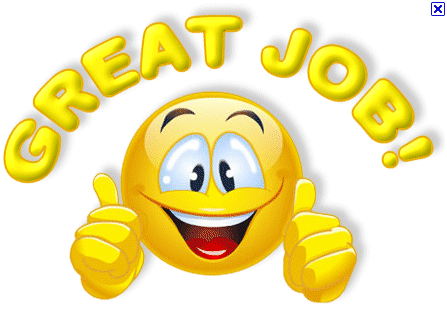 Best,
Amy Cohen Efron