Hello Readers,
I watched a video clip done by Tayler Mayer about his interview with Bernard Bragg on his y3 blog.
Mayer's post is called, "Bernard Bragg's Take on Pepsi / AGBell"

On this video, Bragg recollected about Alexander Graham Bell Association wrote a telegram objecting the first televised appearance by the group of Deaf performers in a NBC show, called "Experiment in Television".
This is an excerpt from the transcript that was posted online:
The year was 1967. Three months before National Theatre of the Deaf was founded, a group of performers (Myself, Gil Eastman, Audree Norton, Howard Palmer, Ralph White, Phyllis Frelich and Lou Fant) appeared in a NBC show, called "Experiment in TV". It was exciting because it was the first time deaf performers would sign…. it would be nationally broadcast, as opposed to just on local channels. We had never done anything like this before. Soon, NBC began to publicize the show with an announcement of a date…

AGBell wrote a letter to the NBC president, objecting and opposing to the show.
I was very curious about this story and then, of course, I googled. This story was documented in two different books.

Lessons in Laughter: The Autobiography of a Deaf Actor
By Bernard Bragg as signed to Eugene Bergman – page 119
Pictures in the Air: The Story of the National Theatre of the Deaf
By Stephen C. Baldwin – page 21 – (to see the page image – click here)
On Mayer's blog entry, there were 47 comments and there was ONE that really captivated my attention. That comment was written by Merv Garretson.
Merv Garretson, on February 25th, 2008 at 11:25 am said:

Great going, BB! History re-visited! i still have a copy of the telegram George Fellendorf of the AGB sent to NBC! As then secretary-treasurer of the NAD, we joined the protest! As usual, BB waxed eloquent. Yes, victory was ours!
Then I immediately contacted Tayler about Garretson's comment, and asking how we can obtain the copy of the telegram. I also contacted National Association of the Deaf asking about the copy too.
9 days later…
National Association of the Deaf emailed me with attachments notifying that Mr. Merv Garretson graciously gave the copies of the correspondence between George W. Fellendorf, Julian Goodman, President of National Broadcasting Company, Inc., and David Hays, Project Director of Eugene O' Neill Memorial Theater Foundation.
I have copies of the telegram and correspondence for you to view.
Fellendorf's telegram to NBC dated November 23, 1966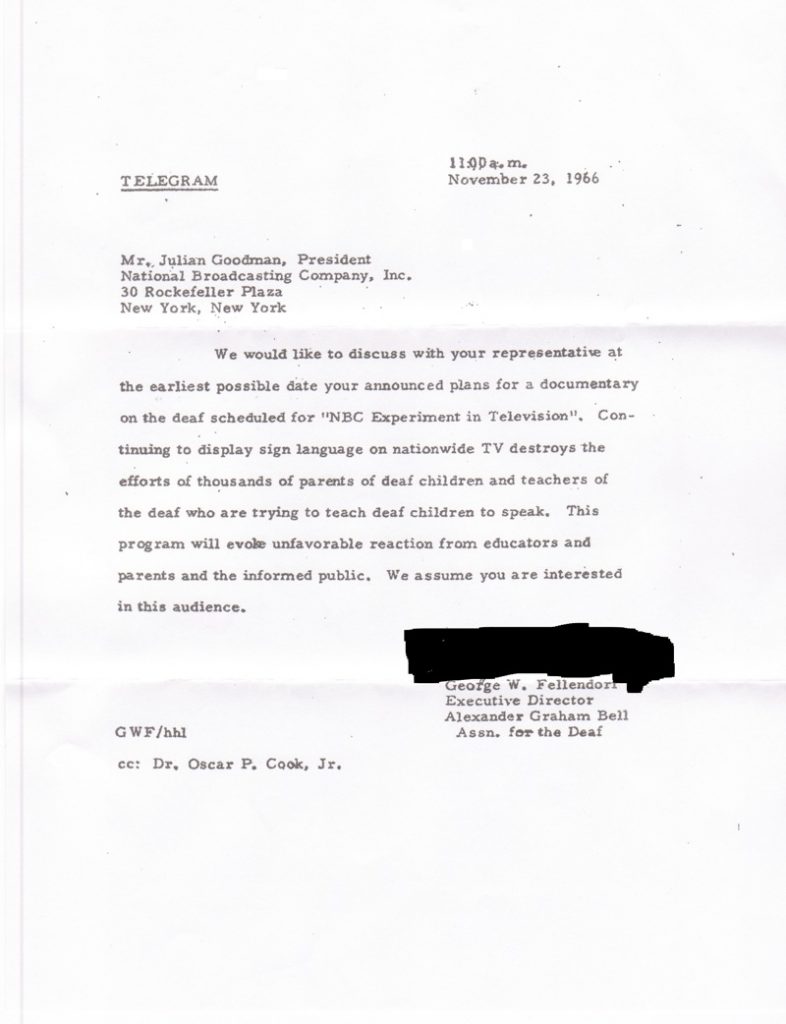 Hays' letter to Fellendorf dated December 5, 1966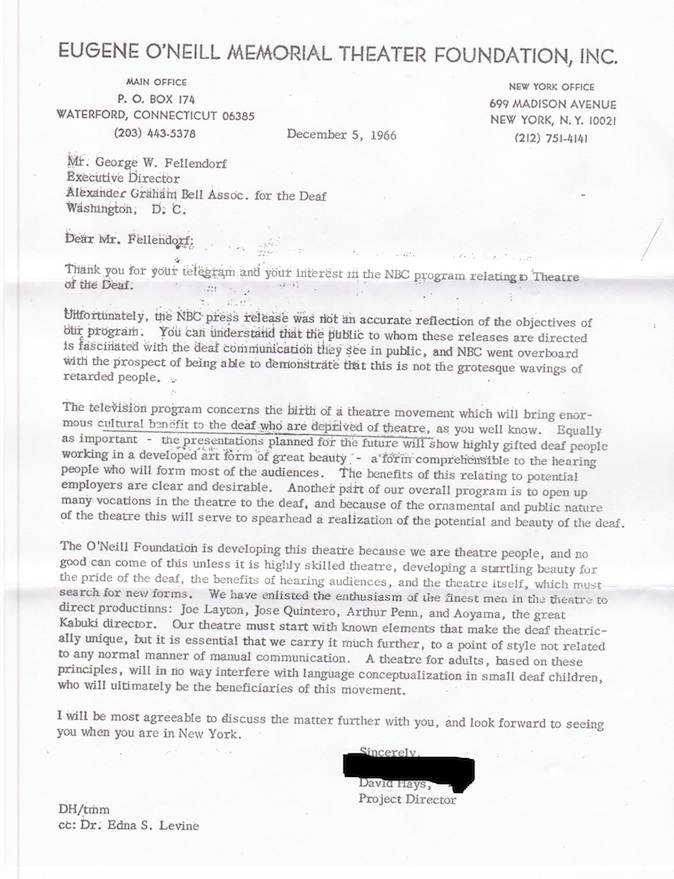 Fellendorf's official letter to Directors of the AG Bell Assn.'s committee members and all Oral Deaf Adults Section members dated January 17, 1967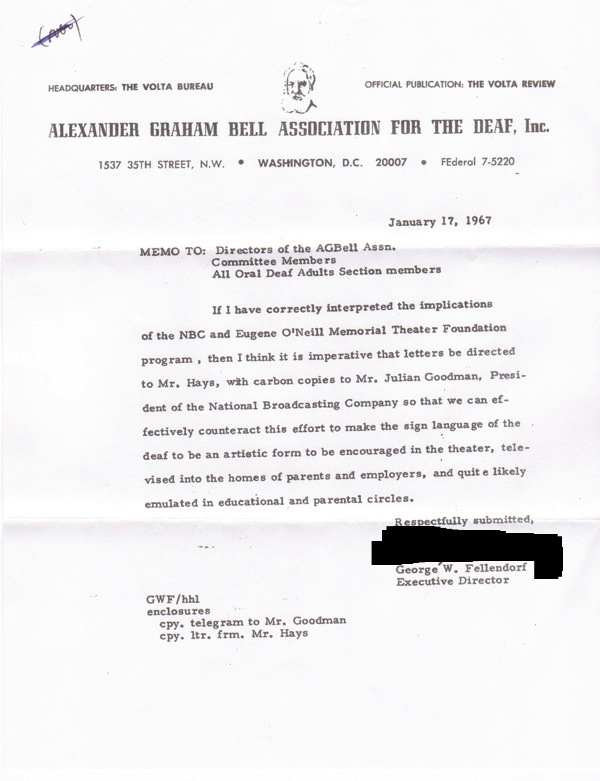 But, NBC ignored these letters and went ahead to air this show on Sunday, April 2, 1967

TIME's archived webpage – Friday, March 31, 1967
Scroll down to the bottom of the page – you will see this:
NBC EXPERIMENT IN TELEVISION (NBC, 4-5 p.m.). Nanette Fabray narrates "Theater of the Deaf," which takes a look at three leading directors (Arthur Penn, Joe Layton and Gene Lasko) working with deaf actors at the Eugene O'Neill Memorial Theater Foundation in Waterford, Conn. Scenes from Kismet, Guys and Dolls, Hamlet, All the Way Home and South Pacific.
Commentary by Amy Cohen Efron:
As Bobbie Beth Scoggins, President of National Association of the Deaf wrote to Karen Youdelman of AG Bell dated February 7, 2008, writes:
"We know that this is not the first time that AGBell has reacted in this manner to high-profile use of ASL, which AGBell may perceive as detracting from its exclusive focus on speaking and listening. As such, we are not surprised that AGBell continues to close its eyes to successful deaf ASL users as positive role models… We expect the same respect from AGBell on behalf of the community we represent."
Yes, indeed… it is not the first time.