All,
I just got home from viewing a 70-minute long documentary called Deaf Jam. .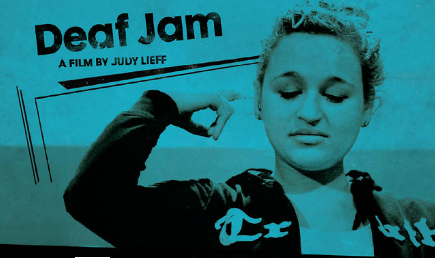 I was so impressed with this film. Please watch my video reaction/review in American Sign Language.
This film presented American Sign Language as a beautiful language, and it gives us an intimate look into a small group of Deaf High School students at Lexington School for the Deaf. These students were learning about ASL poetry.
Aneta Brodski is Deaf Israeli-born student and I was able to watch her personal transformation from a student who thought it was 'fun' to learn ASL poetry to a fabulous ASL poet! That truly touched my heart.
Judy Lieff, as the Director of this film. Lieff was able to present American Sign Language in a very respectful way, and she incorporates an accurate historical, statistical and factual information how American Sign Language was been oppressed throughout the years. She really succeeded in bringing out this information to the audience who knows so little about American Sign Language, Deaf Culture and our values with so much ease! Judy Lieff has earned my utmost respect because she included the right people as project consultants… and they were:
H. Dirksen Bauman
Lori Cheatle
JoAnn Dean
Bob Holman
Terrylene Sacchetti.
I recognized many people on this film, and they were: Manny Hernandez, Peter Cook, Douglas Ridloff, Lauren Teurel Ridloff, and Ryan Commerson.
I am thrilled that Judy Lieff came to Atlanta and she stayed there for the Q/A session at the end of this premiere. I came to the stage and made a comment that I was very pleased with this film. I was so impressed with her work especially how she incorporated the most complex issues of linguistic and cultural oppression among Deaf people in a 70-minute film. The whole audience agreed with me and cheered on.
Here's a picture of me with Judy…
I strongly encourage you to make time to see Deaf Jam film documentary when it comes to your town. Please check the website: www.deafjam.org for more information, or check Facebook page, DeafJam.
Best,
Amy Cohen Efron