All,
Yesterday, on Sunday, July 31, 2011, New York Times published the five-part series (articles) debating about "Should We Need Deaf Schools" with five different experts, including one deaf person.
It is my understanding the general definition of debate always have BOTH sides of perspectives using facts and research. This article is very one-sided and it does not offer any opposite view supporting why it is necessary to have Deaf Schools.
That question, "Should We Need Deaf Schools" is dangerous, especially to the public who knows so little about what is happening to the history of Deaf Education, language oppression, and technological advances. Bad framing!
Check this website link here.
See the image below are five 'experts' writing their own opinion piece.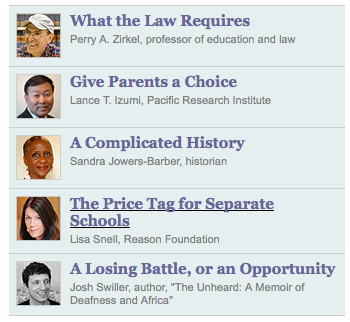 The first person, Perry A. Zirkel is a professor of education and law at Lehigh University. I never heard of him within professional deaf education circles, and he was well known specializing in special education law. To read bit more about Dr. Zirkel, click the Lehigh University website, here. Zirkel writes his 'interpretation' of special education law requires the 'continuum of alternative placements' and 'least restrictive environment (LRE)' for deaf and hard of hearing students. He argues that each state are not required to have a special school and LRE does not support schools for the deaf.
Zirkel summarizes, "Neither the I.D.E.A. nor its case law requires state schools for the deaf any more than state schools for any other disability."
I question that, and why did New York Times chose him to write this opinion piece? I find this statement damaging, one-sided and unfair without having an opposite view. It is very restrictive environment for a deaf child to be placed in a regular school with a small program. It is restrictive for a child to be taught by a hearing specialist once in a week and be escorted by untrained and uncertified sign language interpreter. Just because from the eye of the beholder, this deaf child is 'mainstreamed' into the community where everyone is speaking English and without any disabilities to make this child appear normal. Without thinking it could be socially, linguistically and academically isolating experience for a Deaf child! LRE is a dangerous word and most misunderstood term too. He does not mention anything about IEP safeguards and communication accessibility. I know there are a lot of qualified lawyers out there who can challenge to what Mr. Zirkel wrote.
Second person, Lance T. Izumi is the senior director of education studies at the Pacific Research Institute. To learn more about him, and you can check the website about Mr. Izumi at Pacific Research Institute in California.
Izumi writes about "Give Parents a Choice". First of all, I believe in parental choice, and it must be WELL informed. There are always an argument between respecting parental choice over their own child's linguistic, medical and educational needs compared to a child's human right to a language. People are confused that language should be taught, instead of being acquired. Teaching a language is an oxymoron. It is a very delicate balance between parental choice and linguistic rights.
Izumi summarizes "If all states gave parents these school-choice tools, the decision of public schools to eliminate separate programs for deaf students would be balanced out, significantly or in part, by the creation of such programs at private schools responding to parental demand."
Izumi used the example of Blossom Montessori School for the Deaf in Clearwater, Florida which is a special-needs voucher school, a private school. Not a state school. Private school? Who can afford that and often times, private schools paid their teachers much lower than state-supported schools. Private schools usually have a smaller number of students too.
I do question how Mr. Izumi knows about Blossom Montessori School for the Deaf, and is it fair for him to use this private school as an example for parents to fight for their choice for their own deaf child? I know that many parents fought so hard for so many years trying to have their child to get a good education, and they often ask what are other choices, but was told by the IEP team that the options are always either a state school for the deaf, metropolitan magnet school with a large deaf program, or a local rural school with a small program or worse yet, with non-certified sign language interpreter with once-in-a-week itinerant teacher specializing in deaf education? Blossom Montessori school is rare and there are only two such programs in the United States.
Third person, Sandra Jowers-Barber, an assistant professor of history and the director of the history program in the department of urban affairs, social sciences and social work at the University of the District of Columbia, researches and documents the history of the deaf community. You may want to check into a very brief information on Dr. Jowers-Barber, and I hope that Dr. Jowers-Barber can provide more information about why she is so interested in the history of the deaf community. She wrote, "A Complicated History" and it is well written and to the point.
She summarizes, "Supporters of educational choice should indeed be on their guard against a 21st century Milan declaration, rising phoenix-like from the ashes of reduced state budgets."
Right on the target. Thank you, Dr. Jowers-Barber, and I wish New York Times gives you bit more publishing space for you to elaborate, especially to the readers who does not really understand the devastating effects from Milan 1880 to the deaf education, especially with language oppression, increasing illiteracy among Deaf adults due to language deprivation, and the failure of oralism as per Babbridge Report published in 1965. Babbidge Report is short for "Education of the Deaf in the United States: Report of the Advisory Committee on Education of the Deaf." by Babbidge in 1965. It seems like professionals keep dismissing this report, and argued that today's technology is more advanced than ever, and believes that young children do truly 'benefit' from cochlear implants. Why do Deaf Schools still serve young children with their cochlear implants? There are plenty of them and they do need American Sign Language along with listening and speaking skills. Believe me, they do exist.
The fourth person, Lisa Snell is the director of education at the Reason Foundation and she writes, "The Price Tag for Separate Schools." This piece is the most misleading and damaging piece EVER, about her 'findings' that separate schools are exorbitantly expensive than local schools. To learn bit more about Ms. Snell, go to the Reason Foundation website here. This foundation is from California and it is a think tank organization advocating cost-effective educational programs, especially charter schools. Does Ms. Snell realize the actual cost of educating a deaf child in a small program is much more expensive psychologically, socially, developmentally, and academically compared to a large program for the deaf? Does she realize that Deaf Schools have their residential program which costs more than a day program?
Snell writes, "These special needs scholarship programs are growing around the country, and they have the added benefit of bypassing the polarizing political debate between how best to educate deaf students in separate or mainstream environments by making state financing neutral and letting parents decide the best instructional approach for their deaf child."
This opinion piece is very offensive. Very offensive. I am sure that Deaf Californians are livid with this opinion piece right now, and I hope they will set up an appointment with Ms. Snell as soon as possible to clarify some points and have some educatin' to do.
Lastly, the fifth person, Josh Swiller is the author of "The Unheard: A Memoir of Deafness and Africa." His e-book "Still. Listening.", on deafness and spirituality, will be out this fall. As we all know that Mr. Swiller is deaf himself and wears cochlear implant. He taught at Gallaudet University as a visiting professor with Michael Chorost, and if you wish to read bit more about Swiller's experience at Gallaudet, go to this link here. Mr. Swiller wrote, "A Losing Battle, or an Opportunity".
Swiller summarizes "That is: if I get the environment right, my deaf child won't struggle. But you can't order the world around like that. Deafness will be challenging regardless. Your child will miss things. Your child will feel the judgment of others."
My opinion, his ideas are lofty and optimistic, and I would like for Mr. Swiller to give us tangible examples how it can be done. Deaf educators in Deaf Schools are working feverishly hard to educate deaf students to the highest level of academic standards in order to graduate with a high school diploma. We often have deaf students enrolled in deaf schools with at least 8 to 12 years behind with their language acquisition. Why did I pick 8 to 12 years? Look at this math, first five years is when a deaf child receives the 0-3 program support, preschool, and kindergarten education, then this child enrolls at 1st grade. They quickly get behind at 3rd grade when all children are required to take their state-wide tests. This Deaf child kept failing. Perhaps this child may have their cochlear implant or hearing aids, but still struggling. The parents and hearing specialist/professionals were frustrated and decided to give American Sign Language and Deaf School a try, just like an after-thought. Many times, Deaf Schools embraced them without any hesitation, and we had to do a lot of catching-up with this child. If this child enrolls into Deaf school or a large program at 3rd grade, the chances are somewhat possible for a child to graduate with a LOT LOT LOT of work from deaf educators and parents. Often times, families who are hesitant to send a child away at that young age (3rd grade is 8-9 years old!), and decided to wait until this child is 'old' enough in their middle or high school school age. This happened quite often, not quite, it is TOO often for Deaf Schools to have these kids in these ages enrolling in Deaf Schools for their first time.
Mr. Swiller, how different can we do that for deaf children who needs their peers to develop their language and have a healthy development psychologically, socially and academically?
Unfortunately, all five writers did not mention about critical mass, language acquisition and benefits of getting bilingual education. They decided to frame with mundane information, about the cost, law interpretation, parental choice, hearing technology, and centuries old debate of manualism vs. oralism. Yawn.
New York Times failed to get a balanced view of this debate and unfortunately, it is up to the bloggers, National Association of the Deaf, Deaf education experts and researchers have to fight after the precious space on New York Times' website as lowly commentators. Who will read that?
Thank you so much, New York Times for setting us back and also, ignites the fire within us that we are taking a stand by telling the truth against the misleading information that you presented before the public, especially to the policy makers with so little knowledge of deafness, Deaf Education, Deaf Culture, American Sign Language, Bilingualism and Visual learning systems. We are rolling our sleeves right now.
Shame on you, New York Times. Watch out… our "silent" community is no longer silent and we will make NOISE! (Apologizes to Marlee Matlin for using her quote!)
Best,
Amy Cohen Efron