Hello everyone!
It is been a while since I last blogged.  I noticed that my last posting was on October 13, 2014 focusing on issues of teaching American Sign Language.
I have been contemplating in what kind of direction I would like to lead my life… and I thought to myself that it is a good time to re-invent myself.
For a long time,  I finally traveled.   Visited Martha's Vineyard.   I spent few nights at America's most haunted hotel, Stanley Hotel at Estes Park, Colorado.   Saw New York Deaf Theatre's Captive Audience and Deaf West Theatre's Spring Awakening in New York City.
I signed up with personal trainer and personal coaching to keep up with my physical and emotional health.
I have my bucket list.
On my birthday in last summer, I decided to re-polish my art skills.   I signed up for one night's painting class, and invited my friends.
Here's my first acrylic painting…
I am proud of my first work.   I realized that my brush handling skills needs some work.   So I decided to practice my brush stroking skills, by buying painting by numbers set.
This is what I did…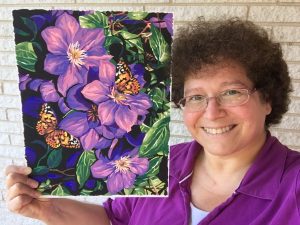 and … that is the beginning of my art journey.
Therefore, I am going to post more stories about my art journey starting in January 2016.
Best,
Amy Cohen Efron