Hello all,
Please stop leaving comments how to get a free iPad from Sorenson. If you wish to inquire about free iPads, contact Sorenson directly. Not me. Thank you.
This blog entry is to generate important discussion about the appropriateness of one company, Sorenson Communications to "win-back" their former customers by providing attractive equipment(s) as long they continue to use their video relay services and nTouch products.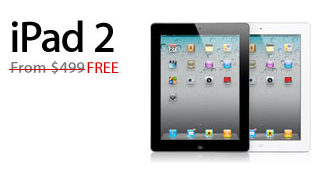 Sorenson Communications are allowed to use "win-back" strategy to woo their former customers to port their 10-digit number back to their video relay services. Sorenson assured that they will not do 'win-back' during the porting process, only after the process is done. Check my previous blog about Sorenson are allowed to use "win-back" their former customers.
For more information about "win-back", there is one great article I found online, "Customer Winback Programs: Are They Worth It?" Below is the excerpt from this article:
There are lots of reasons, other than the economy, why you might be losing customers. Customers could've been frustrated by delays, or aggravated by one bad experience. They could be annoyed by lack of response from you, or seduced away by your competition.

The point is: "If you are losing customers—do you know why?"

There's a big difference between customers who are gone and customers you can win back. Unfortunately, most sales managers and salespeople don't make that distinction.

And many executives neglect to direct their managers to ferret out the reasons why customers are defecting. Why? In the rush to get new business—we ignore lost business—even though in many cases the closing ratio for winning back lost customers can be much higher than the ratio for new business. And the reasons for customer defection are vitally important.

A customer winback program is valuable for three main reasons (1) you win back "lost" revenue (2) you can uncover potential weaknesses in your organization, and (3) you can discover potential threats from the competition.
Okay, I discovered one specific commenter who left a video comment under the discussion tread called, "Did u get ipad from sorenson??" that was posted on DeafVideo.TV on December 26, 2011. Several hours later, this video was abruptly removed, and that comes with all of the video comments too. I was able to save one because I consider this as an evidence which Sorenson did give Apple's iPad2s to specific customers in order to continue using their nTouch products.
Click on this video, then click play on the bottom of the video. Give it bit more time to upload the whole video before playing.
Apple sells Ipad2s for $499.00 dollars each, and some companies sell them for a little less. Ipad2 is the most attractive 'win-back' offer. It is also the most effective 'win-back' strategy.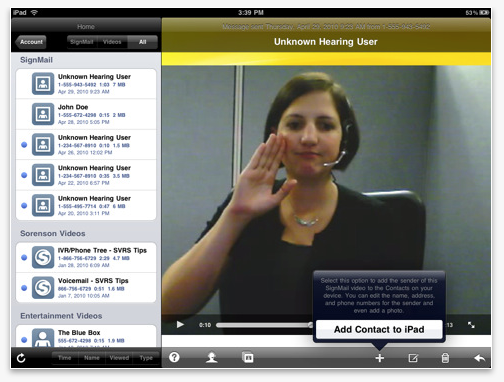 My opinion, I think it is discriminatory because it was given to specific number of customers, not everyone who will get it. Other people are waiting for long time to have their nTouchVPs installed in their homes. Please visit Facebook's Sorenson page, and you will see a lot of people leaving comments about when they will get their nTouchVPs, and also there is a 'contest' where they can click on "Like" button with hopes that they can get a priority installation of nTouchVP.
Also, I wonder what kind of funds Sorenson are using to 'win-back' their former customers? Sorenson wrote on the exparte letter response to FCC, mentioning about 'win-backs' are allowed, so therefore, does that mean Sorenson used FCC money to purchase iPads2 for their customers? How is that different from "brown bag" programs to the customers, that was prohibited by FCC? I hope that Sorenson is not using FCC money to purchase iPad2s! That is something I would like auditors from FCC to check into this.
Anyone of you received iPads2, VoIP phone, Wifi Router, 22-inch HDTV, cash money, or dinner at restaurant from Sorenson Communications as a part of 'win-back', I hope you will come forward with a video or a picture of items that you did receive from Sorenson Communications. Did Sorenson provide you paperwork to sign that these items belong to the company? Or comes with a two-year contract? I'd like to see the documentation that you did receive iPad2s. If there is no documentation, then is it considered as a gift? Is iPads2 are yours? So many questions…
It is important to discuss this because we are in the middle of giving comments to FCC for their new Further Notice of Proposed Rulemaking (FNPRM) posted on December 15, 2011. We have 30 days to respond. I would like FCC to come up with rules and restrictions for companies using FCC money to develop any kind of "win-back" programs, because I strongly believe that any money from FCC should NOT be used for any kind of "win-back" programs at all.
Please be cordial when you leave comments here. Any personal attacks or responses that is not relevant to the topic will be removed. Anonymous comments will be removed too.
Best,
Amy Cohen Efron