All,
This is the fourth blog entry of 5-blog series about Sorenson Communications, Inc's impact on Canada.
It is my responsibility as a Deaf American Citizen to share this information based on facts, reliable sources and supporting evidence to you. Then you can get involved to make things right with FCC and our Deaf Canadian citizens.
Now, you have read the previous blog about Sorenson's fight having call centers located in Canada.
You may wonder to ask what is Canada's involvement with VRS? Why cannot they have their own VRS? There are technology available, and why they are so behind?
First of all, we cannot compare our VRS industry and government structure with Canada. We are two completely different countries. It comes with different names too. I am presenting the chart that will help you to keep track with all kinds of abbreviations.

Let me first explain about CRTC, which is similar to Federal Communications Commission (FCC), and the biggest difference is that FCC gets money for the TRS Fund.
FCC gives certifications to VRS providers to run their business, and regulates the VRS Industry.
CRTC have deferred funds from telephone companies. CRTC does not have TRS-like funds. CRTC does certify. To learn more about CRTC, here's the image below that will take you to their website.



Deaf Canadians 'heard' about United States' video relay services and that started in 2004. Canadian Association of the Deaf (CAD) collected information about VRS to present to the 2005 conference that was hosted by the Alberta Association of the Deaf as a part of the celebation of CAD's 65th Anniversary. The conference was held in July of 2005.
Meanwhile, Sorenson started to proliferate…
At the CAD's 2005 Conference, CAD came up with the best approach with three steps.
Form a corporation responsible for bringing VRS to Canada.
The new corporation should hold a "call for proposals" to establish VRS in Canada.
The new corporation would work with the winner of the call for proposals to ask CRTC how w would bring VRS to Canada.
Please click this PDF file that will allow you to read a brief history of the fight for VRS in Canada.  It will be downloaded as PDF file.
BRIEF_SUMMARY_HISTORY_OF_THE_FIGHT_FOR_VRS_IN_CANADA
In 2007, Sorenson established call centers in Canada. These call centers are for Deaf Americans. Deaf Canadians were getting very angry for a slow response from CRTC until they made two important rulings in 2009-2010.
CRTC ruled that only existing telecom service providers would be eligible for funding to set-up VRS in Canada.
CRTC ordered Bell to do a trial VRS in Ontario and Quebec, and Telus to do a trial VRS in BC and Alberta.
The first ruling meant Sign Relay Canada (new coporation that was formally approved by the federal government) could never become a funded VRS provider. Only telecoms like Bell, Telus, Rogers, etc. could become VRS providers.
In response to the second ruling, Bell decided a trial would not be able to gather the information needed to plan for a sustainable (permanent) VRS. Bell asked the CRTC for permission to do a comprehensive feasibility study instead of doing a trial. CRTC approved.
The feasibility study began in early 2011 and will be completed in late February 2012.
Telus partnered with Sorensen to do its trial VRS in BC and Alberta. This trial has been extended at least once. It is due to end January 15th. Deaf consumers need to understand this trial was funded entirely out of Telus' own deferral account money. That money is limited and it cannot be increased; Telus *must* spend all deferral account money and no new money can be put into that account. This is why Telus is saying it cannot afford to extend the VRS trial past January 15th. Telus pay Sorenson for 16 months of service. It means that Telus used Sorenson's call centers.
Did FCC know that?
After January 15th, which is tomorrow. Sorenson continue using their call centers to provide service to Deaf Americans. Not Deaf Canadians in British Columbia and Alberta.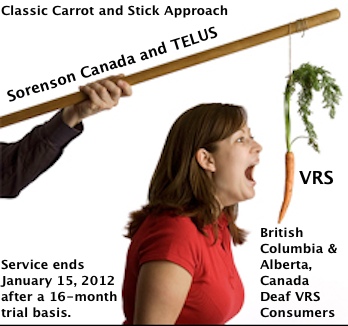 That is definitely a carrot and stick experiment!
I feel disgusted by Sorenson. I don't care if Sorenson are doing this to help Deaf Canadians. I don't understand why Telus partnered with Sorenson. Telus is located in British Columbia and that is close to Sorenson's Vancouver, BC's call center.
Did Sorenson jump into the opportunity because they already have resources and staff ready to do this kind of 'experiment'? How much minutes did Sorenson earn during 16-months? How much did Sorenson bill Telus? Why did Sorenson complain to us that they will go bankruptcy if FCC cut TRS rates? What is Sorenson's motive?
Now, Deaf Canadians, especially from British Columbia and Alberta are rallying to have Video Relay Services. They didn't know the magnitude of Sorenson's involvement. They are outraged right now.
They are mobilizing themselves by setting up Facebook's page, called Canada VRS Rally. It has over 2,000 members, and they desperately need help. Go to Facebook page now and offer some support to them.
My next and last blog entry is about FCC Accountability, and how can WE as Deaf Americans need to be MORE involved with FCC's regulatory process. We are guilty for not being vigilant. Sorenson is laughing to the bank right now, and we are partially responsible for Canada's problem because of our demand of using VRS services in a timely matter.
FCC has released a 109-page proposed rule making document on December 15, 2011 and we have 30 days to respond to this. Sean Gerlis is currently producing 12-vlog series of ASL adaption of FCC 109-page document. Also, every American is now getting frustrated with corporations, and they started to do the political movement to confront corporations of their greed. They occupied Wall Street in protest. Occupy Wall Street started.
It is time to
Occupy Sorenson.
This business practice must stop. We are collectivist beings, and we must care for our neighbor, Deaf Canadians who desperately need their video relay service. That is their right.
It is horrible that they had VRS services for 16 months, and all of the sudden, tomorrow… it will be gone.
Sorenson continue doing their business as usual… go and check my fifth blog.