Hello all,
This is what you all are waiting for… a tangible document from ICED in Vancouver, as known as Vancouver Congress 2010.
Wayne Sinclair, a tireless Deaf advocate and retired educator from Vancouver, BC Canada was mentioned in the article from Peach Arch News, explaining about International Congress on the Education of the Deaf in Vancouver.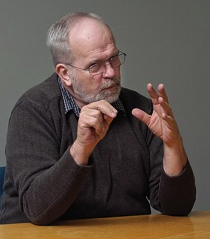 ICED meets globally every five years to discuss education of deaf children, and when Sinclair learned this year's convention is scheduled for July 19 in Vancouver, Sinclair saw it as an opportunity to take action.
Sinclair wrote in the email at 9:20 am Vancouver, BC time with an intent to share with others.
"This is one of the four original copies of the New Era document. It is B.C.
Deaf Community's copy. Share with others. It will be on loan to WIDHH for two or
three years while I negotiate with the Canadian Museum of Human Rights in
Winnipeg for a permanent transfer and display there."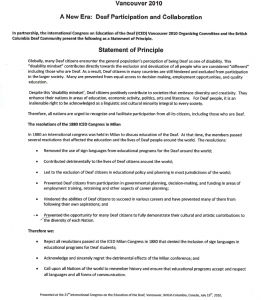 Sinclair added,
"Two other copies will go to the Canadian Association of the Deaf and the World
Federation of the Deaf. The fourth copy will serve as a Legacy Copy and be
passed from one ICED to another and also between WFD and ICED to collect more
signatures. The U.N. will be made aware of this by the WFD later this year.

There were a lot of tears when an ICED 2010 Organizing Committee member
announced before 725 people that the 1880 Milan Resolutions were rejected. It
received a loud standing applause. The Minister of Education of British Columbia
was present at the meeting. It happened yesterday morning, July 19th. 2010. Good
riddance to 1880! PAH!

Share with others. Let the four copies of the document make a noise louder than
the shot heard around the world during the American Revolution!

Lots of work ahead but the 1880 Milan is gone forever! We are getting there!
Many thanks to the many local Deaf community members, to the CAD, to the WFD,
and to an amazingly large number of world community members for their strong
support.

Now…in a nutshell…WOW!"
and Roslyn "Roz" Rosen who is a representative for National Association of the Deaf at Vancouver ICED conference, and she shared her thoughts in this email.
"Vancouver ICED is going great. The New Era resolution has been read to the
plenary audience (and got a standing ovation) and signed (see attached) by the
main players who organized ICED 2010 and deaf community. Now it is being signed
by ICED participants. About 200 of the 500 participants have already signed it.
Itll then be given to Markku on Thurs to bring to WFD 2011 So Africa for more
signatures. Spirit, hope and possibility of effective partnerships are much
better here than 5 years ago."
Amy Cohen Efron here: This is a monumental step for the Deaf History, and spread the word around! That's what Wayne and Roz wanted us to do. Spread the word! Share this with the media! Share with your neighbors! Share!
Best,
Amy CohenEfron