Whoa…
Apple did it again!  They created a brand new iPhone 4, and it comes with a front-loading camera and an app called "FaceTime"!  Apple produced a promotional video on their website demonstrating Face Time, and at the end of this video, it has a couple using American Sign Language to communicate through their new iPhones!
You must have a iPhone4 with a wifi connectivity to make this happen.  For more information, check this link.
To take a short sneak peek of the video below, and to see the whole video clip, go to Apple's website here.
[kml_flashembed movie="http://www.youtube.com/v/AilzYeY-Mko" width="425" height="350" wmode="transparent" /]
I love you, Apple!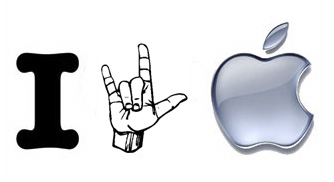 Amy Cohen Efron