[kml_flashembed movie="http://www.youtube.com/v/Yoed-0SWgvQ" width="425" height="350" wmode="transparent" /]
I cannot fathom this. It is so absurd! Unbelievable! I am peeved!



Netflix did it AGAIN! GAWD!! This is OUTRAGEOUS!
They did something really bad…. read on…
Do you remember our beloved PBS show called Through Deaf Eyes that was shown in 2007?

THROUGH DEAF EYES is a two-hour HDTV documentary that explores 200 years of Deaf life in America. The film includes interviews with prominent members of the Deaf community, including actress Marlee Matlin and Gallaudet University president emeritus I. King Jordan.
AND GUESS WHAT?
Netflix has this documentary film on their website as an online streaming option, which people can watch it online anytime without renting a DVD. See below…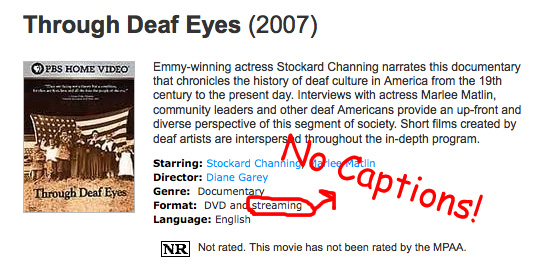 Of course, as usual…. it is NOT CAPTIONED!
Through Deaf Eyes is the most cherished documentary and lots of years of blood, sweat and tears from Deaf Community been poured into this film, including a long standing history behind making this film.
Jean Lindquist Bergey
"Life and Deaf": Language and the Myth of "Balance" in Public History
Sign Language Studies – Volume 8, Number 4, Summer 2008, pp. 330-347

Abstract: This article chronicles the protest to draft plans for an exhibition on Deaf history organized by Gallaudet University. Jean Bergey, director of the History through Deaf Eyes project, analyzes documents from letters of concern and offers context on the politics of public presentation of Deaf community history.

Here's the link to this journal article here.
I cannot imagine that Netflix would post this documentary as an online streaming option which Deaf and Hard of Hearing individuals are unable to watch because there is no captions available!
This has to STOP! They cannot do this to us! Not this kind of DOCUMENTARY!
That's a NO-NO!

If Netflix gets away from this, therefore it may be too late to not have online streaming videos accessible for all of us.
LET US SUPPORT CAPTION ACTION – HR 3101 BILL!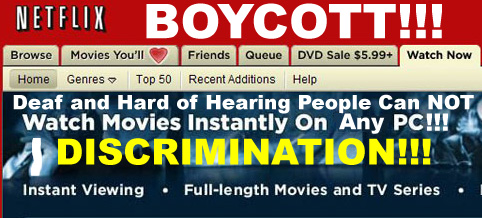 From NAD Blog:
Advocates need to continue to request captioning on Netflix Watch Instantly movies by sending messages to Netflix by Twitter via the Netflix twitter account at http://www.twitter.com/netflix or @netflix and http://www.twitter.com/netflixhelps or @netflixhelps, via the Netflix Facebook page at http://www.facebook.com/netflix, by posting comments on the Netflix blog at http://blog.netflix.com/, and contacting:
Catherine Fisher
Director, Communications
Netflix, Inc.
cafisher@netflix.com
408-540-3847
and
Netflix Customer Service
1-866-716-0414
Best,
Amy Cohen Efron