All,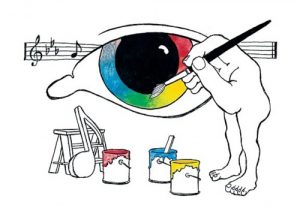 Yep. We do have a controversy. I am vocal about people using American Sign Language to translate musical lyrics. I have strong opinions about this.
"ASL Music- An Oxymoron" vlog which I created on October 11, 2007 when I noticed a disturbing trend of people who are not Deaf are using American Sign Language to express themselves by 'translating' musical songs. I get peeved by watching these videos. This vlog generated a lot of discussion.
I have learned few things.
1. Hearing people and some D/deaf people LOVE music. It is like a 'gospel' to them. I can respect that.
2. Hearing people appreciate visual movement complementing with music. That's why they love going to concerts and watch an artist singing and dancing on the stage. It is enthralling for them. Same for chorus at religious places. I get it.
3. Using American Sign Language as a part of visual movement with music, is a best hook for the audience who never seen ASL on the stage. It is the only way they can get exposed to it. I get it too. I certainly get it.
4. Tying up music with ASL – it is like a glue for young adults who want to learn, and thus helped the popularity of American Sign Language.
5. Taking ASL classes by itself didn't really help with translation/interpretation of musical lyrics. People who take ASL classes alone thought that if they learn a sign for a word, then they will "match" that sign with lyrics. That's what is happening out there. They just don't understand that ASL and English are two separate languages, and you cannot link these two languages together. That is a no-no.
6. Some students who decide to enter into the interpreter training programs, and use their skills to translate lyrics with ASL without going through the complex interpreting process, and not asking Deaf ASL fluent artists for any feedbacks or giving them some credit. That is a no-no.
In past few years, there is a resurgence of Deaf and CODA artists working collaboratively with skilled and talented Deaf filmmakers, and they produce high-quality ASL Music videos. The most recent one is Camp Mark Seven's Pharrell's "Happy". This video went viral with almost 850,000 hits.
Also, I learned that Rocky Mountain Deaf School produced this "Happy" video and it was posted on May 30, 2014.
Two completely different translations, with two different video and editing work. Both are good.
Now, I want to address the controversy with Paul and Tina Sirimarco's Signalong videos. They created the first video, "You're The One That I Want" from Grease, which went viral. It has 1.25 million hits on YouTube.
After releasing this video, Paul and Tina produced more videos which resulted a strong following of fans and supporters. They decided to set up a fundraiser website where they can collect funds to produce more musical videos and educating/teaching American Sign Language for the audience. Their goal is to spread the 'gospel' of ASL to the masses. I was bit upset because Tina who is an interpreter did these songs along with her fiance, Paul who are learning ASL to join with her for duets, and their signs are hard to follow and I am unable to appreciate their work. I have seen some of the signs which are conceptually wrong, and it does not make any sense to me. That is called a bastardization of ASL. Several Deaf people tried to tell them of their concerns, gave suggestions, but quickly dismissed and called them as "haters".
Before you call me as a hater. Please read on.
I want show you another video posted on Facebook on August 23, 2014, done by a different couple, Becky Poehling Woodall (ASL Interpreter) and Daniel Woodall (Child of Deaf Adults and also an ASL Interpreter) did the duet in their car translating "Fine By Me" by Andy Grammer. Please check this song's lyrics here.
What do you think? I watched this video and I am moved by their stellar interpretation and translating this music with ASL as authentic as possible.
Paul and Tina Sirimarco, and others – please respect American Sign Language and if you want to express music with ASL, do them right way and seek for the best role models such as the Woodalls and Deaf/ASL fluent artists for feedbacks before posting online.
**************************
One Commenter suggested that I show a video of talented Deaf artists creating ASL Music that should be showcased on my blog. I wholeheartedly agree with this commenter. I checked many videos done by Deaf people and these videos are mostly interpreting to ENGLISH lyrics in ASL, but did not convey the music itself. It looked bit flat to me.
The only possible visual Representation of using ASL to convey music itself, and not interpreting to ENGLISH lyrics. "Hand Music" from the film In The Land Of The Deaf by Nicolas Philibert.
I am hoping that we can do bit differently, by expressing ourselves using ASL first, and then add music to it. I would love to see a Deaf person's interpretation of Beethoven's Symphony 9 using ASL classifiers and movements only. That would be challenging and creative too!
*********************
Also, please support our Deaf/ASL fluent performers and artists. How can we show support? Go to YouTube and seek for their videos and click LIKE! Share this video on Facebook with your friends. Donate money and resources for them to produce more high quality videos. Invite them to your local ASL Festivals to promote their art. Give them credit and recognition, write articles, blogs, tweet, and anything!
Here is a list of Deaf Professional Artists – go to D-PAN website here. If there are more names, let me know by leaving a comment here.
There is one fundsource website seeking for funds to create a professionally made ASL music video, Let it Go. Please go there now to make donations.
Thank you,
Amy Cohen Efron