All,
After reading Adreanline's blog along with her vlog, "The Pain of Marlee Matlin", and she expresses her 'disappointment' in Marlee Matlin being as a 'celebrity' spokesperson for causes that focuses on the medical view of deaf people. Adreanline hopes for deaf celebrities out there who will advocate for issues which addresses ASL and Deaf values.
With due respect to Adreanline, I beg to differ.
I dedicate this blog to Marlee Matlin and my title is "The Power of Marlee Matlin", and that is how I feel about her at this moment.
Marlee Matlin is indeed a public face for the D/deaf Community and she has consistently proved herself over and over again by overcoming numerous obstacles and criticism. The harshest criticism were from the Deaf community.
In 1986, when a 20-year old Marlee Matlin was selected to perform as Sarah Norman for the movie, "Children of the Lesser God" with William Hurt. It was the first mainstream movie with a major character who is Deaf, performed by an actress with a hearing loss.
One year later, she won Academy Award, the youngest winner of Best Actress category at age of 21. I have witnessed this award show along with many Gallaudet students at the Abbey. It was a jubilant moment. However, in 1988, when Marlee was on the stage to announce the new Academy Award winner by using her voice instead of signing. It threw us off, and we were in shock and feeling disappointed. We criticize her. We shun her.
Yet, Marlee continues to work. She acts. She directs. She writes. She raised a family of four. She overcame addiction. She got involved with numerous charity organizations. She fights for accessibility. She did so much more, much more than ANY other actress I've ever known.
My resentment of Marlee for what she did in 1988 had evolved to everlasting admiration and awe.
I am in awe of Marlee. Today, she announced that she is a proud member of National Association of the Deaf. I am proud too.
Let's look at this big picture. I created this graph here.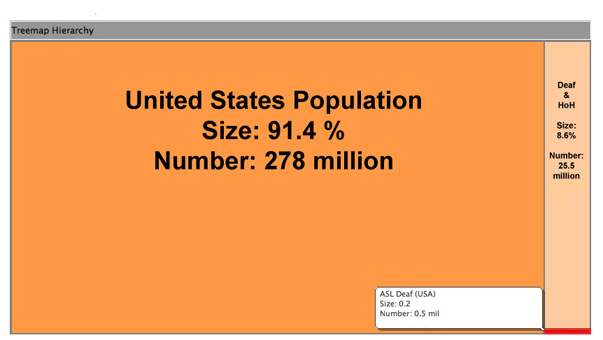 This is a visual graph of the total population of United States, and the bar on the right side represents the percentage of deaf and hard of hearing people, including a very tiny rectangle on the lower right corner representing approximately 500,000 ASL users.
The bar itself equals to the economic power – only 8.6% percent of US have hearing loss in various degree. Marlee represents the whole Deaf/deaf community.
Marlee turns people's and politicans' heads, and opens their pockets/purses. She is very influential. She is powerful.
Let her soar, and don't clip her wings or tell her what to do, act and behave. Let her be. She KNOWS what she is doing. She is not stupid.
More power to Marlee Beth Matlin! You got my upmost respect and admiration.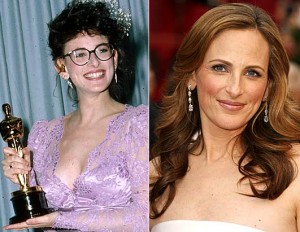 Check out her OUTSTANDING professional resume, on the IMDb.
Best,
Amy Cohen Efron