All,
On Friday, April 8, 2016 in this morning, Alexander Graham Bell Association for the Deaf and Hard of Hearing (AG Bell) published a statement responding to numerous letters from the Deaf community on their website.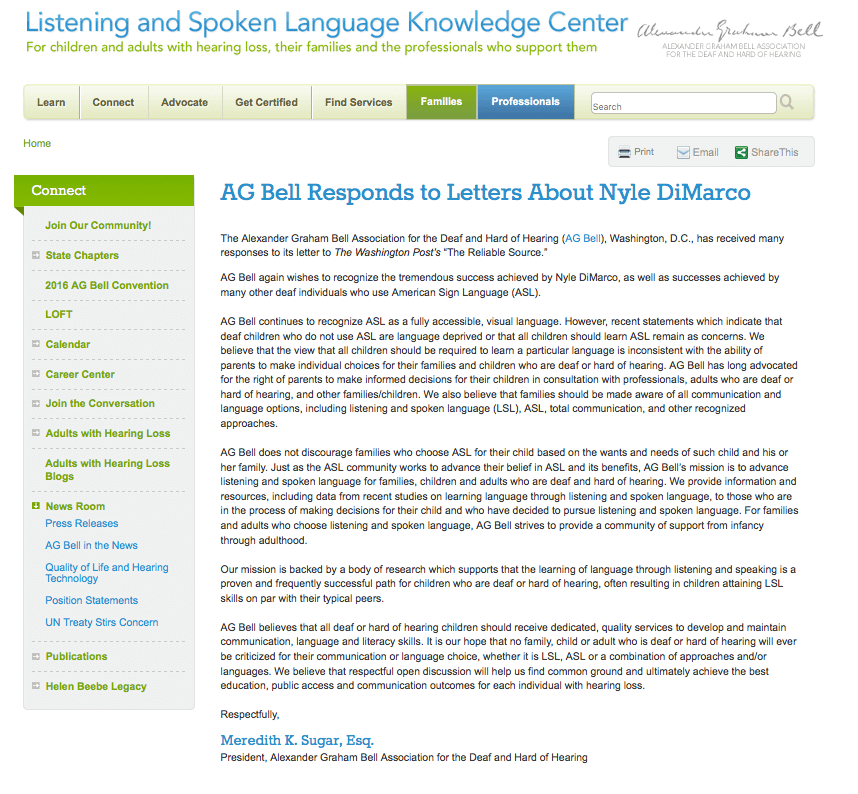 AG Bell Responds-4-8-16 PDF file
Here is the text and I am adding bold for emphasis and italics of my thoughts.
The Alexander Graham Bell Association for the Deaf and Hard of Hearing (AG Bell), Washington, D.C., has received many responses to its letter to The Washington Post's "The Reliable Source."
AG Bell again wishes to recognize the tremendous success achieved by Nyle DiMarco, as well as successes achieved by many other deaf individuals who use American Sign Language (ASL).
Thank you for recognizing his success and other people's successes, and I know there will be a "but" coming…
AG Bell continues to recognize ASL as a fully accessible, visual language. However, recent statements which indicate that deaf children who do not use ASL are language deprived or that all children should learn ASL remain as concerns. We believe that the view that all children should be required to learn a particular language is inconsistent with the ability of parents to make individual choices for their families and children who are deaf or hard of hearing. AG Bell has long advocated for the right of parents to make informed decisions for their children in consultation with professionals, adults who are deaf or hard of hearing, and other families/children. We also believe that families should be made aware of all communication and language options, including listening and spoken language (LSL), ASL, total communication, and other recognized approaches.
Informed choices? No, not all parents are provided information in an equal basis when they were told that their baby was diagnosed with a hearing loss. Too many parent literature are presented to families which are slanted to the LSL approach, and there is very little information presented about American Sign Language. Also making parents to 'choose' is detrimental for their baby. It is not about a choice anymore, it is language opportunities. Research has already stated that is biological necessity for Deaf babies to have American Sign Language, and providing bilingualism will greatly benefit for them. You need to stop thinking about options! It is about giving families all of OPPORTUNITIES!
AG Bell does not discourage families who choose ASL for their child based on the wants and needs of such child and his or her family. Just as the ASL community works to advance their belief in ASL and its benefits, AG Bell's mission is to advance listening and spoken language for families, children and adults who are deaf and hard of hearing. We provide information and resources, including data from recent studies on learning language through listening and spoken language, to those who are in the process of making decisions for their child and who have decided to pursue listening and spoken language. For families and adults who choose listening and spoken language, AG Bell strives to provide a community of support from infancy through adulthood.
You are right that you, as an Association, did not directly discourage families who choose ASL, however it is your IDEOLOGY and PREDATORY MARKETING APPROACH that are so pervasive in all systematic levels that medical professionals are being irresponsible by pressuring families to choose learning language through listening and spoken therapies. You consistently do not recognize the harmful effects that you had on these families.
Our mission is backed by a body of research which supports that the learning of language through listening and speaking is a proven and frequently successful path for children who are deaf or hard of hearing, often resulting in children attaining LSL skills on par with their typical peers.
Show us the research and cite them. We are interested. We asked you to provide that.
AG Bell believes that all deaf or hard of hearing children should receive dedicated, quality services to develop and maintain communication, language and literacy skills. It is our hope that no family, child or adult who is deaf or hard of hearing will ever be criticized for their communication or language choice, whether it is LSL, ASL or a combination of approaches and/or languages. We believe that respectful open discussion will help us find common ground and ultimately achieve the best education, public access and communication outcomes for each individual with hearing loss.
You believe that respectful open discussion will help us find common ground, then did you set up an open meeting with the Student Body Government of Gallaudet University? They are waiting for your response by today and they want to have a meeting with you as soon as possible. These students are your "end-product" of your own ideology. Listen to them very closely.
Respectfully,
Meredith K. Sugar, Esq.
President, Alexander Graham Bell Association for the Deaf and Hard of Hearing
Commentary by Amy Cohen Efron
Alexander Graham Bell Association for the Deaf and Hard of Hearing is pushing very hard to infiltrate their so-called "LSL" approach to all levels, nationally, state-wide, locally, medically, legislatively, and systematically. Most of all, they are zealously pushing their ideology, which is called phonocentrism, to medical professionals who works with their families of deaf babies. Right now, they are officially certifying medical professionals with their Listening and Spoken Language Specialist certification that is tied to Continued Education Units. With these LSL certificates, it means that health insurance will pay for this. Not educational funds. Their focus are deaf and hard of hearing newborn babies to three years old toddlers. After that, AG Bell believes that these toddlers at age of three, are independent and able to function in schools without any additional help.
That is very wrong, and very dangerous way of pushing this. AG Bell consistently does not recognize that American Sign Language is a biological necessity for Deaf and Hard of Hearing babies, and refused to work with the concept of language opportunities. They want to have families to make the choice, and allow them to think they can choose.
Families, naturally, want Deaf babies to learn to say, "Momma, I love you", and it takes a lot of effort for them to learn these precious words through medical intervention (i.e. cochlear implantation or any hearing devices) and language intervention (the so-called, "LSL" approach).
Why cannot Deaf babies "SEE" and "FEEL" families' hands, saying I-LOVE-YOU as soon after their birth?
Best,
Amy Cohen Efron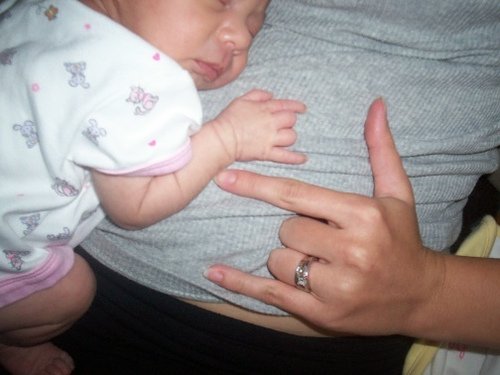 UPDATE
AG Bell updated their website by adding citations.     (The ASL/Deaf Community will consult with academia to review each research source and then make comments – please stand by.)
References
Cardon, G., Campell, J., & Sharma, A. (2012). Plasticity in the developing auditory cortex: Evidence from children with sensorineural hearing loss and auditory neuropathy spectrum disorder. Journal of the American Academy of Audiology, 23(6), 396–411. Quiz 495. doi: 10.3766/jaaa.23.6.3
Geers, A. (2004). Speech, language, and reading skills after early cochlear implantation. Archives of Otolaryngology—Head and Neck Surgery, 130, 634-638.Geers, A., Strube. M., Tobey, E., Pisoni, D., & Moog, J. S. (2011). Epilogue: factors contributing to long-term outcomes of cochlear implantation in early childhood. Ear and Hearing, 32(1), 84S-92S.
Geers, A. E., & Nicholas, J. G. (2013).Enduring advantages of early cochlear implantation for spoken language development. Journal of Speech, Language, and Hearing Research, 56, 643-655. doi:10.1044/1092-4388(2012/11-0347)
Hayes, H., Geers, A., Treiman, & R. Moog, J. S. (2009). Receptive vocabulary development in deaf children with cochlear implants: achievement in an intensive auditory-oral education setting. Ear and Hearing, 30(1), 128-135.
Moller, M. P., Carr. G., Seaver, L., Stredler-Brown, A., & Holzinger, D. (2013). Best practices in family-centered early intervention for children who are deaf or hard of hearing: An international consensus statement. Journal of Deaf Studies and Deaf Education, 18(4), 429-445.
Moog, J. S., Geers, A., Gustus, C., & Brennen, C. (2011). Psychosocial adjustments in adolescents who have used cochlear implants since preschool. Ear and Hearing, 32(1), 75S-83S. doi: 10.1097/AUD.0b013e3182014c76
Sharma, A., & Campbell, J. (2011). A sensitive period for cochlear implantation in deaf children. Maternal-Fetal & Neonatal Medicine, 24(01). 151-153.
Tomblin, J. B., Harrison, M., Ambrose, S. E., Walker, E. A., Oleson, J. J. & Moeller, M. P. (2015). Language outcomes in young children with mild to severe hearing loss. Ear and Hearing, 36(1) 76S-91S.
Yoshinaga-Itano, C., Sedey, A. L., Coulter, D. K., & Mehl, A. L. (1998). Language of early- and later-identified children with hearing loss. Pediatrics, 102(5), 1161–1171.
– See more at: http://www.agbell.org/in-the-news/letters-nyle-dimarco/#sthash.krjJXsaG.dpuf