All,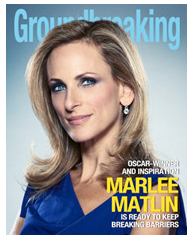 Guess what? Yes, it is true! I checked Wikipedia's Celebrity Apprentice Season 4 link in this morning and I learned that Marlee Matlin is chosen as a Project Manager tonight!
There are three teaser videos available on official Celebrity Apprentice website. All three teaser videos are not captioned, and you can file a compliant to NBC about this. GO to this link here.
This clip shows Marlee Matlin as a Project Manager for this episode tonight. Apparently it is about setting up an art gallery.
This is a short video clip of LaToya Jackson who is willing to make a contribution tonight by providing a t-shirt signed by Michael Jackson. Anything with Michael Jackson will grab lots of money! See Marlee's being very touched by this gesture.
See the video clip of Lil John and Mark McGrath mocking around A.S.A.P's empty Art Gallery. Makes me wonder what is happening…
These three clips above – Marlee appeared being frustrated with her team's lackluster energy, LaToya's surprise by donating a signed Michael Jackson's t-shirt, and an empty Art Gallery. But, John Rich's Backbone team had Meatloaf yelling at Gary Busey. Do you think that A.S.A.P. will break their own losing streak?
Let's us connect the dots here. First, Marlee flew to Africa in mid-March, after she completed all 11 episodes. A short clip of Bill Austin getting a check of one million dollars and calling Donald Trump as 'boss' on Comedy Channel's Trump Roast? The last episode is due on May 22, 2011 which is one week after NAD's Benefit Gala on May 14, 2011 at Berkeley, CA. I know that Marlee signed a non-disclosure agreement with NBC, but damn, I wish I only knew…
A recent interview published by Parent Dish, Marlee said,
"I came to play the game because I was confident I could win and prove that I was a formidable player when it comes to raising money for my charity. Whether I won or not was up to the other players each week, and, ultimately, up to Mr. Trump. But I for sure brought the attitude that I was deserving of being considered a winner."

"I for sure brought the attitude that I WAS deserving of being considered a winner."
Is that a hint?
I hope that Marlee will win as a Project Manager tonight! Let's all of us to watch this show tonight and root for Marlee!
Go Marlee! Go!
Best,
Amy Cohen Efron