All,
In past week, we get plenty of press notification about MTV's reality show on Gallaudet University. I was intrigued.
This morning, I found out this show is aired only among the college campuses. Not available to the public. I cannot DVR/record it.
Came home recently, and visited the mtvU's website: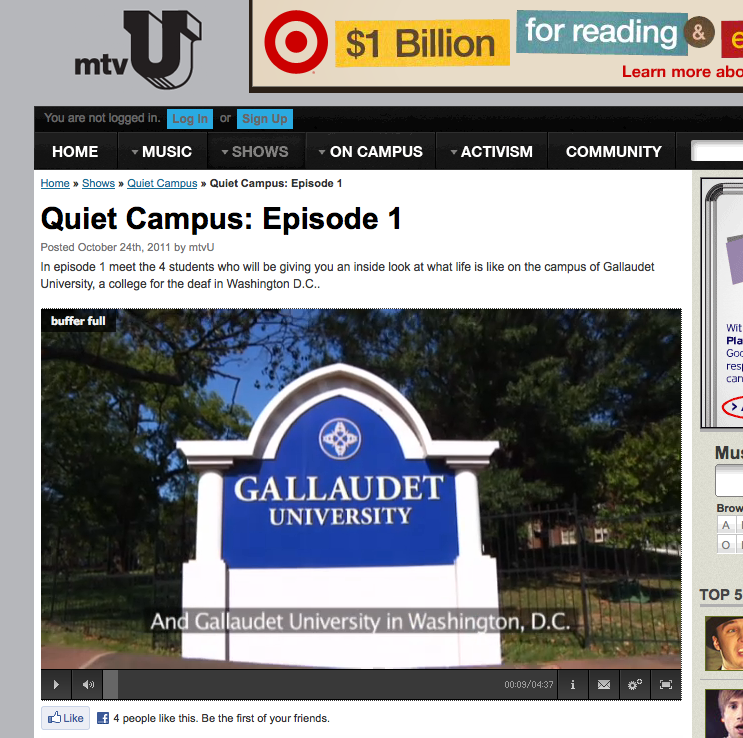 Click here for the link to the mtvU's website.
Alas, there is the first episode of this show! "Quiet Campus: Episode 1" – I quickly watched it.
It was only…
4 minutes and 37 seconds long.
Is that all?
Was it supposed to be a 30 minute show? Or?
That was a terrible 'tease' for all of us.
All of the hoopla with PR marketing about mtvU's Quiet Campus on Gallaudet University, which lasted only four and a half frigging minutes long?
Oh please. As a Gallaudet Alumni, I rather to have millions of dollars given to Gallaudet just like NTID and CSUN.
Not just a measly 4 and a half minutes long of fame. THAT is even worse than the 15 minutes of fame!
Embarrassing.
Best,
Amy Cohen Efron