Dear Sorenson Communications,
Are you that desperate?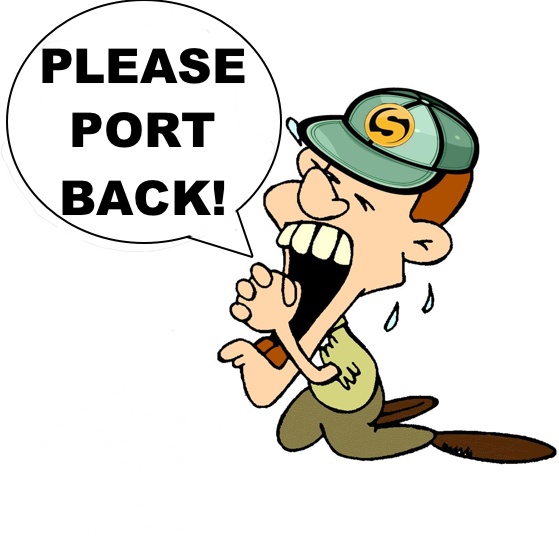 Less than 24 hours after I published my blog, "Sorenson, the 10-digit number is MINE! Goodbye!", a representative from Sorenson Communications emailed, called and left a video message asking me why I ported my 10-digit number to another video provider, ZVRS.
I got this videomail left by a representative from Sorenson Communications.
As of 11/28/2011, this representative sent me email requesting for the removal of the video. I honor this request. You may read the email I received from the same representative.
Here's the excerpt of the email I received this morning at 11:45 am EST.
Hello,
My name is C**** and I am writing you to offer assistance with your VP-200.

It has recently come to my attention that you have ported your local number to another provider. Unfortunately, when this happens, the VP-200 will only work with limited features. The Sorenson Gold Services such as your contact list, the Sorenson Video Center, Call Waiting, RapidoVRS, and Enhanced 911 Services (along with many other great features) are no longer available.

I would love to have the opportunity to discuss with you all the ways Sorenson VRS can make a difference in your life!

You can give us your permission over the VP to port your number back to Sorenson and then I can help you have your VP-200 running again in just a few minutes with a temporary local number!

Please feel free to call me on the VP at 801-***-**** with any questions or concerns.

I look forward to hearing from you soon!

Thanks! Have a great day!

C*****
c****@sorenson.com
Videophone: *****
Or From your VP-200: select the "Get Connected" icon
How interesting… and pay attention to this "Get Connected" icon. If a person decides to port their 10-digit number to a different provider, but keeps VP200. Yes, the features will be lost, EXCEPT there will be a dialogue box alerting to the "client" about this icon allowing them to get connected with Sorenson. This will automatically ports your 10-digit number back to Sorenson. Here's the pictorial evidence.
This image shows the VP200 with a number that is not ported to Sorenson's server.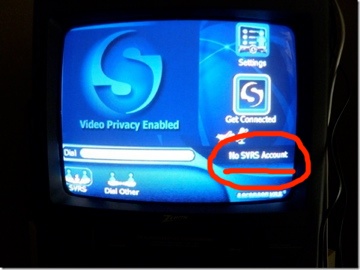 This picture below show VP200's dialogue box alerting to get connected back to Sorenson. It allows a person to call Sorenson's representative to port your VP200 back to their server with temporary 10-digit number.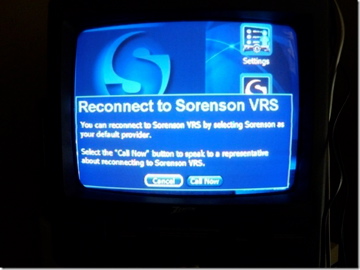 Also, whenever you receive a VP200 from Sorenson, it does not belong to you. Every VP200 has a sticker indicating that it is Sorenson's property, and it is not for sale. That's why ZVRS offered to have VP200s to be shipped back at their own expense.

Sorenson, please respect my choice to do whatever I want with my 10-digit number.
It is time for you to move on, it is over between us. Don't go back begging, because it is kinda pathetic.
So long, Sorenson.
Best,
Amy Cohen Efron